How to Buy a Domain Name Even if you are a Total Beginner (with pictures + 1 extra tip to save money)
Why Do You Need a Domain Name

A domain name is the first thing you need to have to build a website. Either if you are already the owner of an existing company and you want a site for it or you want to build an online business from scratch a domain name purchase should be first in your list. After reading this step by step guide you would be able to buy a domain name at a very good price.

The buying process is not hard but you need to pay attention to some small details. It is good to know that you can buy a domain now and you can build your website or use a professional email a lot later. Around the web, you will notice that the verb "register" is commonly used instead of "buy" for domains. Please ignore that part since it doesn't matter and you can consider it as the same thing.

These are the steps that we will follow to buy a domain name:
1.)Sign up for a reputable registrar (the site that you will buy the domain name).
2.)Use their domain availability search field to type the name you want and check if it is available.

3.)Remove the additional selected products they offer and keep the domain only
(if you want the cheapest price possible).
4.)Use a coupon for a better price.
5.)Provide payment details and complete the purchase.
Let's take a closer look at each of the steps:
1.)Sign up for a reputable registrar (the site that you will buy the domain name).
For our example, we will use godaddy.com that is one of the most well-known registrars. You can also follow a similar process with other good registrars like Namecheap. The first step is to create a new account if you don't have already one. In that case, you have the option to continue with Facebook or create an account by providing email, username, and password.

I am an old user of godaddy.com and back then I signed up by email. I assume that Facebook login is faster but choose whatever you want. If you decide the email option you should keep in mind that the username needs to be between 5-50 characters, contains at least 1 letter, not contain space and it is unique. For password at least 9 characters, an uppercase letter, a lower case letter, a number, not start or end with space and not include a commonly used phrase.

2.)Use their domain availability search field to type the name you want and check if it is available.
Now it is time to register our domain name. You will notice that most short and catchy domain names are already taken. Try for example to register insurance.com, you will see a message that domain is already taken. To be able to continue with the purchase I will type a domain that is available. It doesn't matter if you type uppercase or lower case letters, they would be always converted to lowercase letters. The domain Buycompanyname.com is the same as buycompanyname.com even if the first letter is a capital one.

I chose to register abdceeef.com and I don't want to include .net .org .info extensions too since it isn't needed. My next step is to click "continue to cart" and move in the next screen.

3.)Remove the additional selected products they offer and keep the domain only (if you want the cheapest price possible).
In the next step, you will see some additional products that the registrar has added to your cart. You can always buy them later so my suggestion is to unclick the options or choose "No thanks" when is available. The additional products, of course, they are useful to some degree but there is no reason to buy them now.

The privacy protection hides your personal information such as name, email, address and phone number. These details are available for someone that is interested to find out who is the owner of a certain domain. There are links like that: https://whois.icann.org where you can do this type of check.If the owner of the domain name hasn't bought privacy protection then personal details are available.

Your logical question is who wants this type of information. This might be used by some sellers to send you promotional emails with their services or products they offer. They may try to sell you services related to website design, marketing, web hosting, logo design etc. There are also hackers that will try to send you malicious links in your email with the hope that you will click them and affect your machine.

With the option start your website for FREE you get a month trial of Godaddy website builder. With this option, you have many templates of sites to use for and if you don't like the interface you can cancel before you get charged. Of course, you can untick and add that later on.
The last product that GoDaddy offers is a professional email connected with your domain name such as george@buycompanyname.com.You can unselect this option too and continue to cart.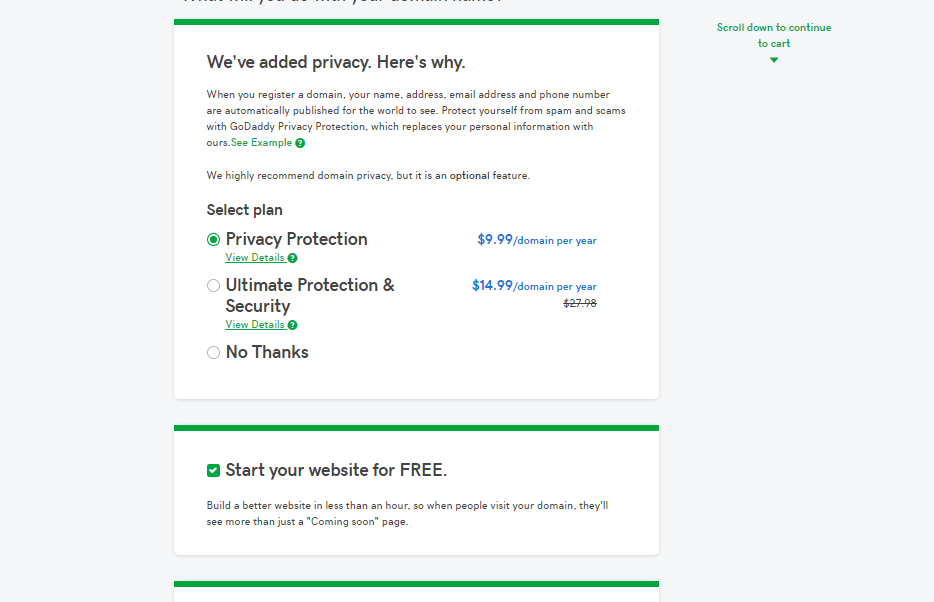 4.)Use a Coupon For a Better Price.
On the next screen you will see a.COM Domain Registration item with 5 years selected. Keep in mind that you can't actually register a domain name forever. You rent its usage for certain years but of course, you can always renew and in the end, you can hold it for a long of a time .
If you choose 2+ years of registration then you pay around 2.99$ for the first year and 17.99$ for the next ones. Based on your country and currency you see slightly different prices since sometimes GoDaddy makes offers for certain regions.
If we search for the cheapest option we change years of registration to 1 and then search the web for some coupons. I like to check namepros (a forum for domains) and the thread of "GoDaddy-discount-codes" to see if some of the coupons work for me.Search for $0.99 .com domains coupons. If you are a totally new customer there are more chances to get a great deal.
As you can see included taxes we managed to get a .com domain for $1.17 dollars for one year! The certain coupon code might not work for you but in that case, try other codes in namepros forum or check on google for sites that offer coupons for new .com registrations.
5.)Provide Payment Details and Complete The Purchase.
The last step is to provide payment details and complete the purchase. You will also complete your billing information with your full Name, address, and phone number. You can use many payment methods such as a card, PayPal or bank account (depending on your country).

Please also check your inbox too since you will probably receive an email with your purchase details after you finish all steps.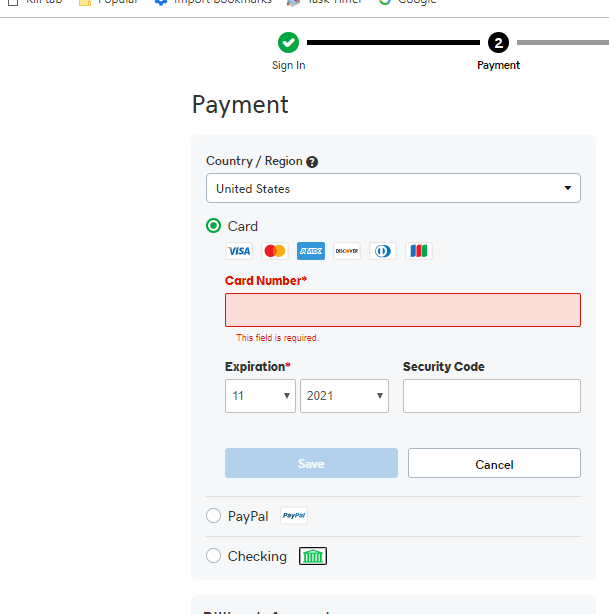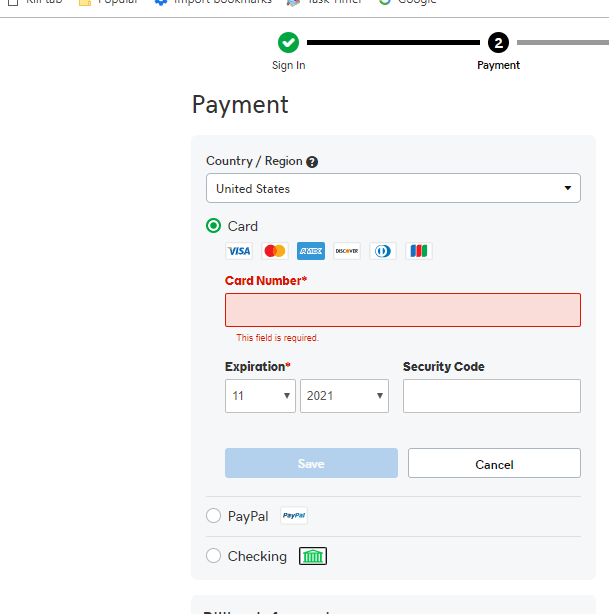 Summary

Congratulations you are a proud owner of a great domain! You can use it as you want from now on or leave it like that if you don't have immediate plans.

The general process of buying a domain is very similar whatever registrar you decide to use. Search for available domains, deny upsells if they are not needed, search for coupons and give payment details to complete your purchase.