What Does Parked for Free Mean (on GoDaddy or Elsewhere)?
You probably visited a website recently and you saw that message: This Web Page is parked for Free, Courtesy of Godaddy.com. Initially, you expected to see a developed site or at least a banner that indicates this website is for sale.
But what does parked for free mean? Parked for free means that the owner of the domain name hasn't developed a site yet and temporarily he uses his domain registrar's (ex. Godaddy) nameservers. Registrars usually promote their services on parked domains or they show ads.
**Nameservers inform the internet where a domain name points to. For domain parking, they just point to Godaddy servers. So, Godaddy is responsible for what it will present to anyone that visits the domain name.
What Does Domain Parking Mean?
Domain parking is the presence of only a single specific-type web page that appears when someone visits an undeveloped domain. This web page can present ads or promote the services of the domain name registrar. Here is an example of how a parking page looks like.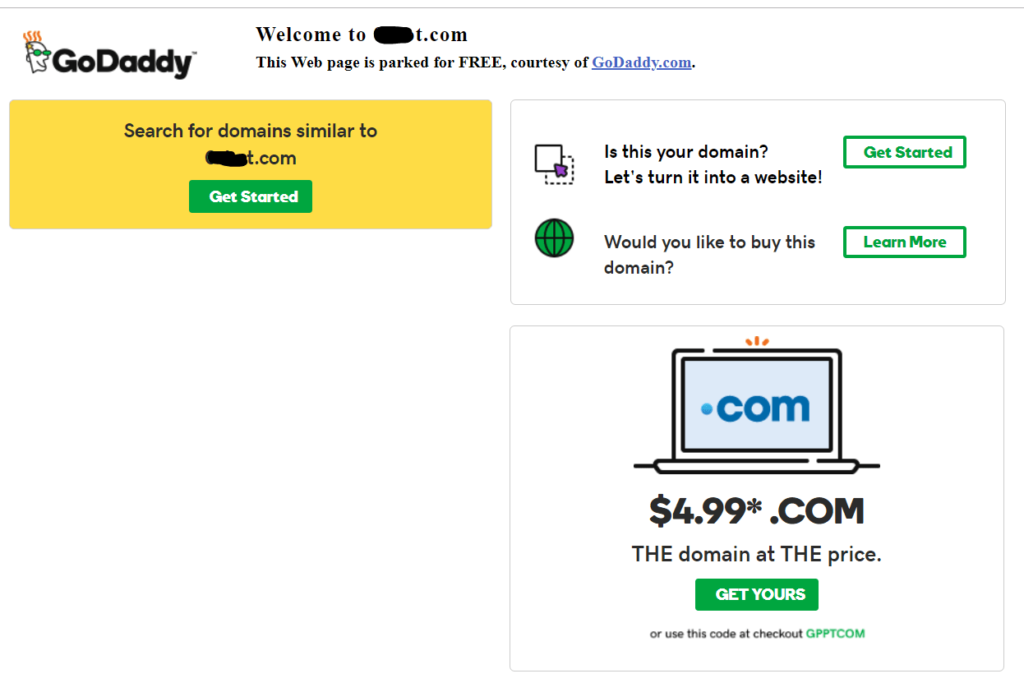 This screenshot doesn't mean that Godaddy owns the domain. The original owner still owns it but by default, this webpage appears if the owner hasn't built a website or didn't change the Godaddy domain settings. At any moment the domain name owner can change the settings and point his domain anywhere he wants. Even if he wants to show a blank webpage with no text at all.
**A domain name is just the site's name without https://, https://, https://www. etc. For my site, the domain name is "buycompanyname.com" and it is the first thing you need to buy if you want to start a website. It is like registering a company name for your new business.
Can I Buy a Parked Domain?
You can buy a parked domain but consider that domain parking itself doesn't mean that the owner wants to sell it. You can start by trying to find the owner's details. Your first stop would be a site like this: whois.com where in some cases you see the owner's details for a specific domain. The details you can get is the full name, email, address, and phone number.
A lot of domain name owners add privacy so sometimes you would not be able to find the details that way. The next step is to see who is the registrar of the domain name. This is always available in whois databases. If the registrar is Godaddy then you can visit that link: godaddy.com/whois/.
Then after you perform a search for a specific domain, scroll down to the bottom of the screen to find out the "Contact Domain Holder" section as you see in the screenshot. If you click there you will see a form that you need to complete (see the screenshots).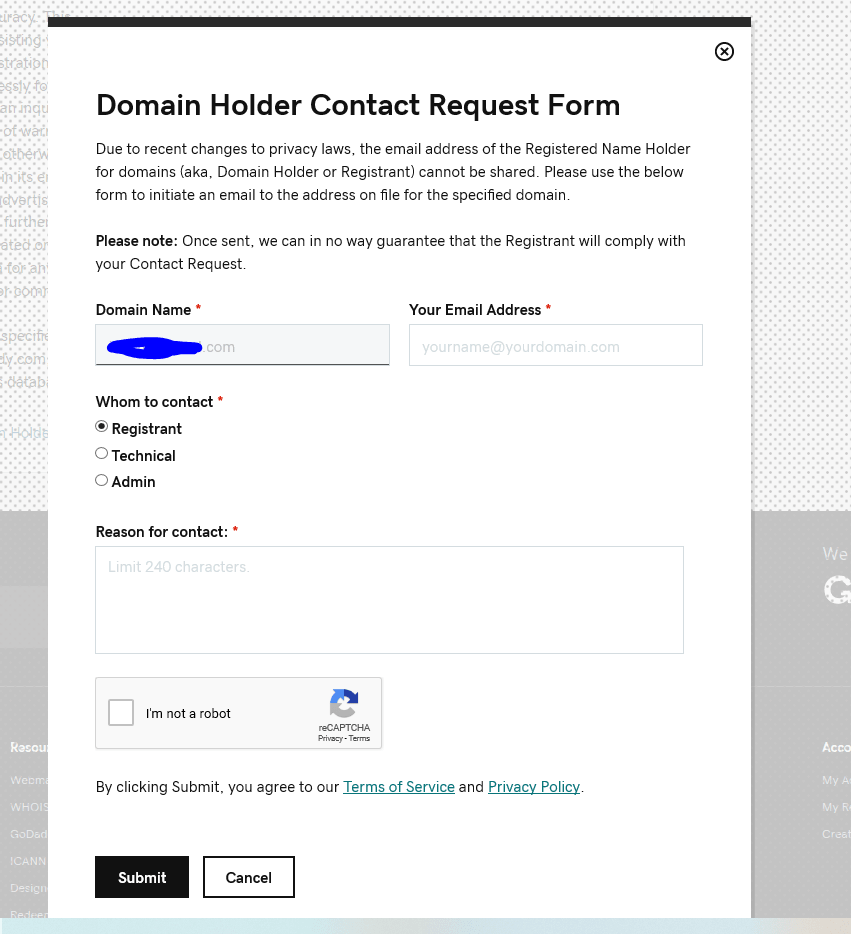 The message you will send it will reach the domain name owner's inbox. You can't be really sure if he will answer but at least he will receive the email. You may want to try once more some weeks later if you don't get a response.
The bad thing with emails is that sometimes end up in the junk folder or the recipient ignores them completely. If you really want to get that certain domain you can approach a domain name broker to do further research.
There is a chance that they might find additional details of the domain owner (such as phone number) and contact with him. In that case, you will need to pay a fee or a percentage of the sale to the broker.
How do I Park/Unpark a Domain?
By default, domain name registrars park your domain. They have very detailed instructions in their help pages (you will find the links in the next paragraphs) on how you can do it. The trick is to find your domain settings > find something related to DNS or nameservers > adjust the details there per your registrar instructions.
Keep in mind that if you want to unpark your domain you need to have hosting with some provider or you can do a redirect (also an option in domain name settings).
Here are the links for the 2 most popular domain name registrars:
godaddy.com help(if the link doesn't work just google: Park a domain registered with GoDaddy
godaddy.com help unpark (for unparking)
Registrars don't always share their ad earnings from domain parking with owners. You either need to pay or find some other company that offers domain parking (yes there are a lot!). Read the next paragraphs to find out how and where you can make money from domain parking.
How do Parked domains Make Money?
Your domain registrar or domain parking provider shows ads and if some visitor clicks an ad they get paid from the advertisers. Depending on their policy they give a portion of the ad earnings to the domain owner. The ads are related as much as possible to the domain keywords.
For example, if the domain is mybestcarinsurancexyz.com then the ads will be related to auto insurance. In that case, there are more chances for the online visitor to actually click on the ad.
Your next question might be how these domain names have online visitors even if there is no developed site. There are actually 2 different cases: 1.)Domains that previously were real sites 2.)Misspelled domains of popular sites.
1.)Domains That Previously Were Real Sites
It is so common situation for a company to go bankrupt and stop paying for the domain that used for its site. Many people actually forget to renew their domain name and they lose control of it since it expires. Especially non-tech persons may not sign in with their domain registrar for months and they are not aware that their domain will expire.
There is actually a big industry around that concept of expired domains. Companies and individuals use software programs to register an expired domain the moment that becomes available for the public.
An expired domain has already traffic from online visitors since until recently it was a live website. Domain registrars can monetize this traffic as long as it lasts. After a while search engines will unlist that domain from their results since they don't want to promote parked domains.
2.)Misspelled Domains of Popular Sites
Many internet users type mistakenly their favorite website on their browser. If someone owns a good misspelling of that domain they can get a portion of that traffic. Although many big companies buy the most common misspellings they still miss some.
Another downside is that you might have legal issues if the company noticed the parked domain. Especially if it is a name that they have trademarked it. If it is a more generic keyword like a car, insurance, etc then it is harder to take legal action against you.
List of the Best Domain Parking Companies
In that section, we will present some of the best domain parking services:
Godaddy CashParking
You get 60%- 80% of revenue earnings from the ads on your domain. The downside is that you need to pay a subscription per month. If you are interested you can find more details here: godaddy.com cashparking .
Sedo Parking
Sedo is one of the biggest secondary domain name marketplace meaning you can't register brand new domains but you can buy already registered ones. They offer free domain parking and you can find more details here: sedo.com/us/park-domains/
Bodis.com
This is a company that specializes in domain parking. They work with direct advertisers to get the maximum revenue possible. Read more here: bodis.com/
Voodoo.com
Another company that specializes in domain parking. There is an approval process to get accepted there. If you want to try to join check here: voodoo.com/signup/
Above.com
This a domain registrar but it is heavily focused on maximizing revenue for the domain owners. You can read here how exactly they are trying to monetize your domains above.com/faq.html
Parkingcrew
Another company that focuses on domain parking and how to optimize domains for better revenue. If you have any questions how their system works, check their faq page: parkingcrew.com/faq.php
Park Logic
A platform that is similar to the previous ones and focuses on optimizing revenue for domain name traffic. There is an approval process here so you might not get approved since it targets mostly professional domain name investors with a lot of names. You can read more here: parklogic.com
Is Domain Parking Worth it?
Domain parking at some point was very profitable but today doesn't have great returns for most people (there are always exceptions!). A usual argument in favor of domain parking is that in many cases you can cover the renewal fee. So, at least you don't lose money. The reality is that most of the earnings will not cover even that fee.
There are of course some people that have good revenue but they have devoted a lot of time to find the tricks that really work. One good example is here on namepros: namepros.com domainparking tips. The discussion starts in 2012 but if you are really interested you can read until the latest posts (2020).