Should I Buy A Domain Through Shopify Or Godaddy (Pros/Cons)?
You are setting up your Shopify store but you are not sure if you should buy a domain through Shopify, GoDaddy, or other domain registrars. This is a usual question so I will present to you all the pros and cons of each decision so you can reach a conclusion.
| | | | |
| --- | --- | --- | --- |
| Features | Shopify | Godaddy | Other Registrars (Namecheap,Dynadot,Namesilo) |
| First Year Cost | High | Lower | Lower |
| Cost After First Year | Steady | High | Low |
| Domain Privacy | Free | Paid | Free |
| Domain Settings Setup | Easy | Easy | Slightly Harder |
| Email Setup | Email Forwarding Only | Email Hosting Available | Email Hosting For Some Of Them |
**Get a free domain for 1 year and quality website hosting from Hostinger.com (affiliate link). Read my full review here.
Shopify, GoDaddy, Or Other Domain Registrar
Before I start with the arguments for each use case, I believe you should not choose the easy solution of a free URL like abcdexample.myshopify.com. Most of your potential customers will not be comfortable buying from this kind of store. Check this thread on Reddit from people that are worried about this kind of stores Reddit Thread For myshopify.com
Check on the next screenshot and see how many auto-suggests I get from google when I type "is myshopify.com". This fact indicates that many users are worried when they see this type of URL and they are searching on google for reviews and answers.
Ok, let's start now with our comparison between three possible options for a custom domain + a Shopify store. Shopify is an easy to use platform that combines many different features under one tool. This is the biggest advantage, especially for people that build a website for the first time. In that sense, you can easily buy your domain and set it up from the Shopify interface only.
The cost at the current time is 14$ for a .com domain per year,16$ for a .net, and 17$ for a .org . You can see the prices for rest extensions on the next screenshot.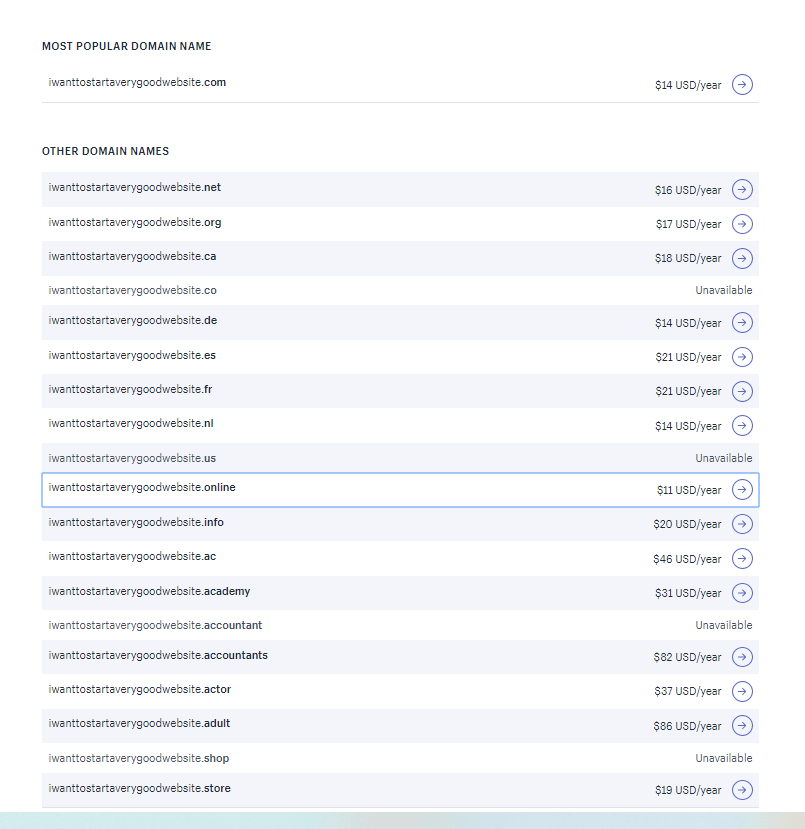 If you decide to purchase a domain with other registrars then the first year the price would be lower for sure but in some cases, the renewal price would be higher than Shopify. For example, Godaddy offers 1.17$ domain names but only for the first year and for first time users. I am presenting to you a table with the prices for a .com domain in different registrars included Shopify and Godaddy.
| | | | | |
| --- | --- | --- | --- | --- |
| Registrars | .com – First Year – Only For First time users | Regular Price For The First Year | Renewal Price | Transfer |
| Shopify | $14 | $14 | $14 | $14 |
| Godaddy | $1.17 | $12.17 | $18.17 | $8.17 |
| Namecheap | $6.40 – $7.28 | $9.06 | $13.16 | $8.76 |
| Dynadot | $8.99 | $8.99 | $8.99 | $8.99 |
| Namesilo | $8.99 | $8.99 | $8.99 | $8.39 |
*All the domain registrars offer different discounts and coupons over the year so take a look on the next links to see the updated prices: Godaddy Pricing , Namecheap Pricing, Namesilo Pricing , Dynadot Pricing
Godaddy attracts a lot of new users because of the initially very cheap price but there are 2 downsides. The renewal price is nearly $20 and you need to pay extra for domain privacy. This feature is usually free for the rest domain registrars included Shopify too. If you do not have domain privacy and you are not an EU citizen, your contact details would be visible from a whois database like whois.com or who.is.
If you decide to use a different domain registrar and not Shopify then you need to set up your domain settings in a different way. Here is the article from shopify.com that guides you through this process: Shopify Help For Domains .
Below you can see the instructions from the Shopify help page for 3 well-known domain registrars, keep reading after this paragraph too to find out how you can adjust settings on some other cheaper domain registrars (namecheap,namesilo,Dynadot).
GoDaddy, Google, and 1&1 IONOS domains
From your Shopify admin, go to Online Store > Domains.
Click Connect existing domain.
Enter the domain that you want to connect, such as johns-apparel.info.
Click Next.
Click Connect automatically.
In the Sign In window, log in to your GoDaddy, Google, or 1&1 IONOS account.
Click Connect
**From https://help.shopify.com/
You can see some screenshots from other domain registrars interface below. Only Two things you need to use, A record=23.227.38.65 and www CNAME=shops.myshopify.com.
Let's start with Namecheap. The process here is simple too since you need to visit your domain list > change the DNS template to Shopify and choose the green tick symbol. After that, the necessary settings are modified automatically. You will need to wait up to 48 hours to see your Shopify store with your domain name (usually happens within 1-2 hours).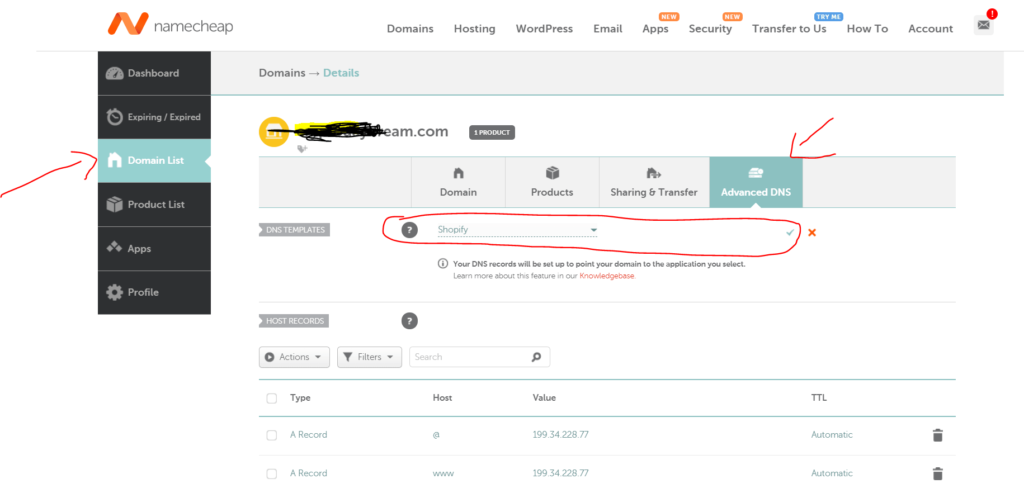 The next registrar we will explore is Dynadot. Find My Domains > Manage Domains > select the domain you want to use. Click on the arrow next to DNS settings. For Dynadot, an A record=23.227.38.65 is enough, delete all other records if there are any. Wait up to 48 hours to see your changes live.
Last but not least here are the steps for adjusting settings on namesilo. Go to my account> domain manager > DNS Records > Update. Delete all previous records and add the details as you see on the second screenshot: A record=23.227.38.65 and www CNAME=shops.myshopify.com.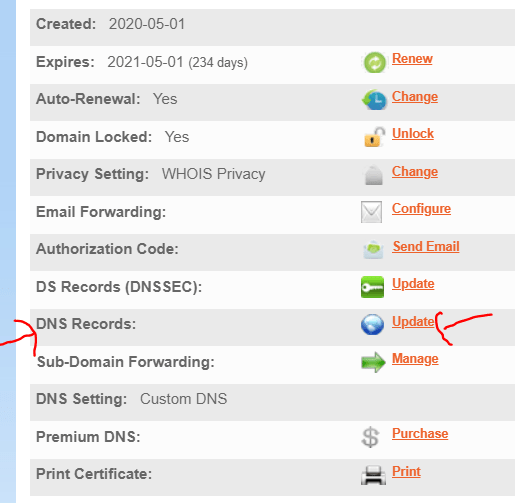 Another negative aspect of Shopify is that they don't offer email hosting. By that I mean you can't send emails from a custom domain such as info@mydomainetc.com sales@mydomainetc.com. They offer for free what we call email forwarding. For example, you can receive emails sent to info@mydomainetc.com but these will end up to your Gmail, yahoo, outlook, etc inbox. When you try to respond back your customers will see that you are using a free email such as Gmail and not your custom domain address such as info@mydomainetc.com.
I see that GoDaddy, Namecheap, and Dynadot offer email hosting. I advise you to read carefully the sales page for each email hosting plan so you are aware of any limitations.
My overall suggestion is to go with another registrar if 4-5 more dollars per year is a meaningful expense for you but not on GoDaddy. If you don't even bother for this amount stay on Shopify.
Transfer A Domain From Shopify To Other Registrar
Many people afraid that they will not be able to transfer their domain if they ever decide to cancel their Shopify subscription. That's not true unless you registered or transferred your domain within the last 60 days. This is how you can transfer a domain outside of Shopify (check the bottom of this page) Transfer your Domains Outside Shopify (help page).
Here are the instructions for each of the registrars I mentioned earlier. If you follow the previous article and one of the next ones (based on your registrar) you will be good to go.
Namecheap Domain Transfer (scroll down to see all the instructions)
Godaddy Domain Transfer (scroll down to see all the instructions)
Namesilo Domain Transfer (scroll down to see all the instructions)
Dynadot Domain Transfer (scroll down to see all the instructions)
Final Words
I hope that now you have a better view of your current options around custom domains. Please share the post on social media if you really find it useful, I would be grateful!