Can You Buy a Domain Name With One Company and Host With Another?
Many people are thinking if it is possible to buy a domain from one company and host it elsewhere. It's a usual question if that is possible and I had the same question some years ago when I started building websites.
So, Can you buy a domain name with one company and host with another? You can buy a domain name with one company and host it with another. To do that you first need to find your hosting company's nameservers settings. Then add those nameservers settings in your domain management section of your domain name registrar (where you buy the domain from).
This process might look complicated but I will explain everything in detail with pictures and a step by step guide for you to follow. I will also mention real examples from the most popular companies in domains and hosting fields.
Domain Registration and Hosting With Different Companies
There are only 2 steps that you will follow:
1.)Find the nameservers details from your web hosting company
2.)Login to your domain registrar and add the previous details
Find the nameservers details from your web hosting company
Here are the ways you can find the exact nameservers in different hosting companies.
1.)You can search and find the nameservers in the "help" section of your hosting company. Some examples of popular hosting companies that you can find details there are :

Bluehost : bluehost help page  It seems that nameservers, in that case, are: ns1.bluehost.com and ns2.bluehost.com  . Please cross-check again if the nameservers are still valid by visiting the link and then you can continue reading my post.

Namecheap: namecheap support page  In that case nameservers are dns1.registrar-servers.com dns2.registrar-servers.com   and for shared hosting: dns1.namecheaphosting.com dns2.namecheaphosting.com. As you did for bluehost please cross-check again if the nameservers are still valid by checking the above link and then continue reading my post.

2.) You can find the nameservers in the welcome email which was sent when you first signed up for web hosting and contains the info about nameservers. In between other details like your username, domain, the password you will find what you need too. The below example is from hostgator . Don't use the nameservers you see here, please check your email inbox.

3.) If there is any dashboard, user area or similar then the information is somewhere there. A good example is siteground that has the info under user area > my accounts > information & settings > Account DNS. The below screenshot is from their site directly.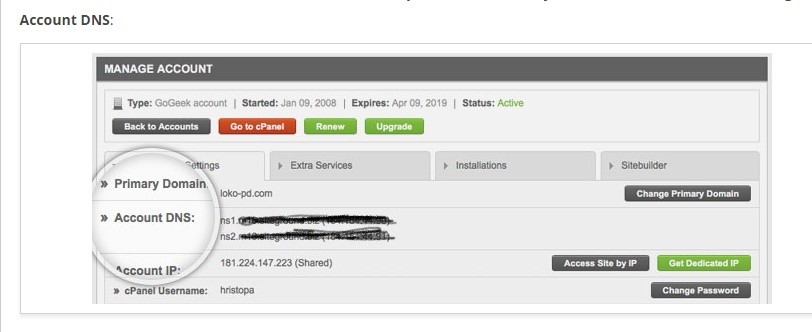 4.) If for any reason you can't find the nameservers details try your hosting's live chat or send an email support ticket. They will be more than glad to help you since it is very easy for them to check. Don't worry it is not embarrassing to ask, it is something that they are used to been asked a lot from their customers.
You noticed that there are always 2 nameservers that start with "ns" or "dns".We need two of them in case the one stops working for any reason. For the next step, you will only need what I showed you in our previous examples.
Login to your domain registrar and copy the previous details
My examples contain pictures from godaddy registrar (since it is the most popular) but the process is very similar for every registrar.
First login to your domain registrar and then visit this help page on godaddy :
godaddy help page
You will see all the domains that you registered with godaddy. Click the one that you want to update the nameservers so they can point to your hosting server.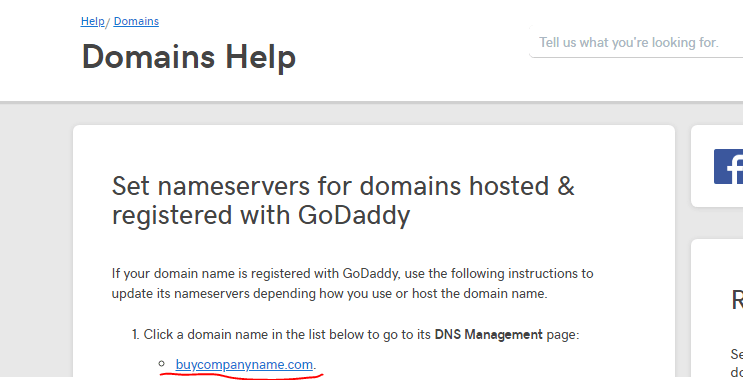 Then you will see the domain manager for a particular domain. Scroll down to see the nameservers section.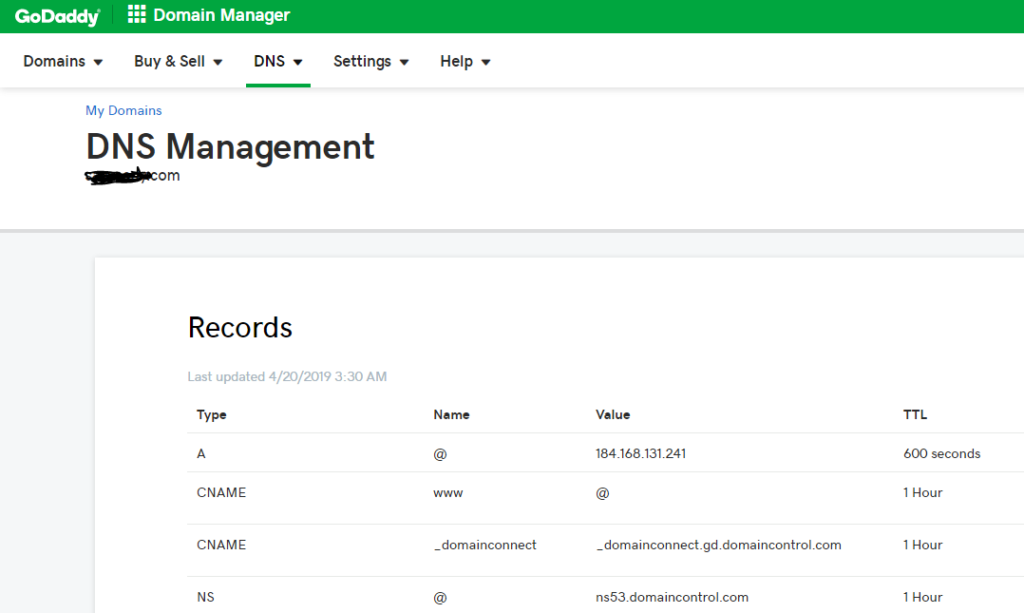 Click change and choose custom as type. Enter the nameservers from step 1 (from your hosting company) and ignore any ad from godaddy. Just copy-paste the details and click save. Don't forget to copy both nameservers.
Based on your registrar it can take up to 48 hours for your changes to be updated. In my experience usually, it happens much quicker than that (very few hours).

If you don't use godaddy for your domains then try to find your account's dashboard (sometimes you just click your username when you see it on the top right or top left in your screen) then your domains' management section and from there you can add custom nameservers. Let me show you an example from namecheap:
I clicked account> domains list and then next to my domain i chose "manage". My next step is to pick Custom DNS from the dropdown menu, add the correct details and then save by clicking the "tick" symbol.
From time to time, domain registrars and web hosting companies change slightly their interface. There is also a chance to change their nameservers. Even if that happens the 4 ways that I presented to you are still relevant. There would be always a help section in their site, a dashboard, a domain management area or a live chat option where you can find the updated information.
Is It good to Have Domain and Hosting with Separate Companies?
There are both advantages and disadvantages to that option. The advantages are :
1.)You don't allow one company to have total control over your site. You can't ever predict what can happen in the future, a reputable company now might be not trustworthy later.
2.)It doesn't happen usually a good domain registrar to be a good hosting company at the same time. They tend to specialize either in domains or hosting.
3.)If you ever decide to move your site because you are not satisfied with hosting it is easier to update nameservers on your registrar side. Sometimes a hosting provider can delay your transition to a new provider and it has that power if you have both domain and hosting with it.
4.)Better security. If your site ever gets hacked then you can easily point your domain to a different host and keep your site alive.
5.)You might have many undeveloped domains and you want to experiment and compare different hosting companies to see which one is better
The disadvantages are:
1.)It is harder to manage 2 different accounts since you need to update information, renew products and solve technical issues with support with 2 different companies.
2.)Some hosting providers offer a free domain when you use their services and by choosing to have separate accounts for registration and hosting you lose that freebie. In general, if you decide to build a site, having hosting and domain under one roof it is better in pricing terms.
A definition you might want to know
What is a nameserver?
A nameserver is a special computer that is open and online 24 hours per day and stores the IP addresses for many different domains. When you type buycompanyname.com your browser "asks" the nameserver what ip is associated with that domain. Since the computers understand and communicate between them with numbers the IP addresses are necessary.

The browser when finds out this detail will know where to search to find your website files and then loads them so you can interact with the site. This process seems too long but it happens in seconds.
If you want to start a new website check my review for the right hosting provider. If you decide to follow my recommendation get a free domain with that hosting company!